10403.1
MiniCompact for one amplified zone, 20 W with Bluetooth® and AUX IN
All-in-one console with bluetooth® audio receiver, auxiliary input and mono amplifier 20 W, 4 Ω.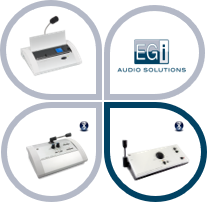 Do you have questions about this product? Contact our support:

sat_consultas@egiaudio.com
HiFi sound quality incorporating "Dynamic Loudness" system for perfect bass and treble compensation at low volumes of music. 20 W RMS 40 W musical program, of maximum audio output power, for connection from 1 to 8 speakers or box loudspeakers of low impedance Key switch to turn On/Off status. Extra PIN output for activation and amplification of supplementary sound through EGi power stages. Led indicators for Music signal bluetooth, AUX and On/Off status. Built-in external power supply 115/230 Vac to 15 Vdc via female Jack coaxial connector.
No customer reviews for the moment.