PAW Series - All-in-one systems for wall mounting
Maximum Compactness?: Now launching PAW Mini
5 new references, from 100W to 250W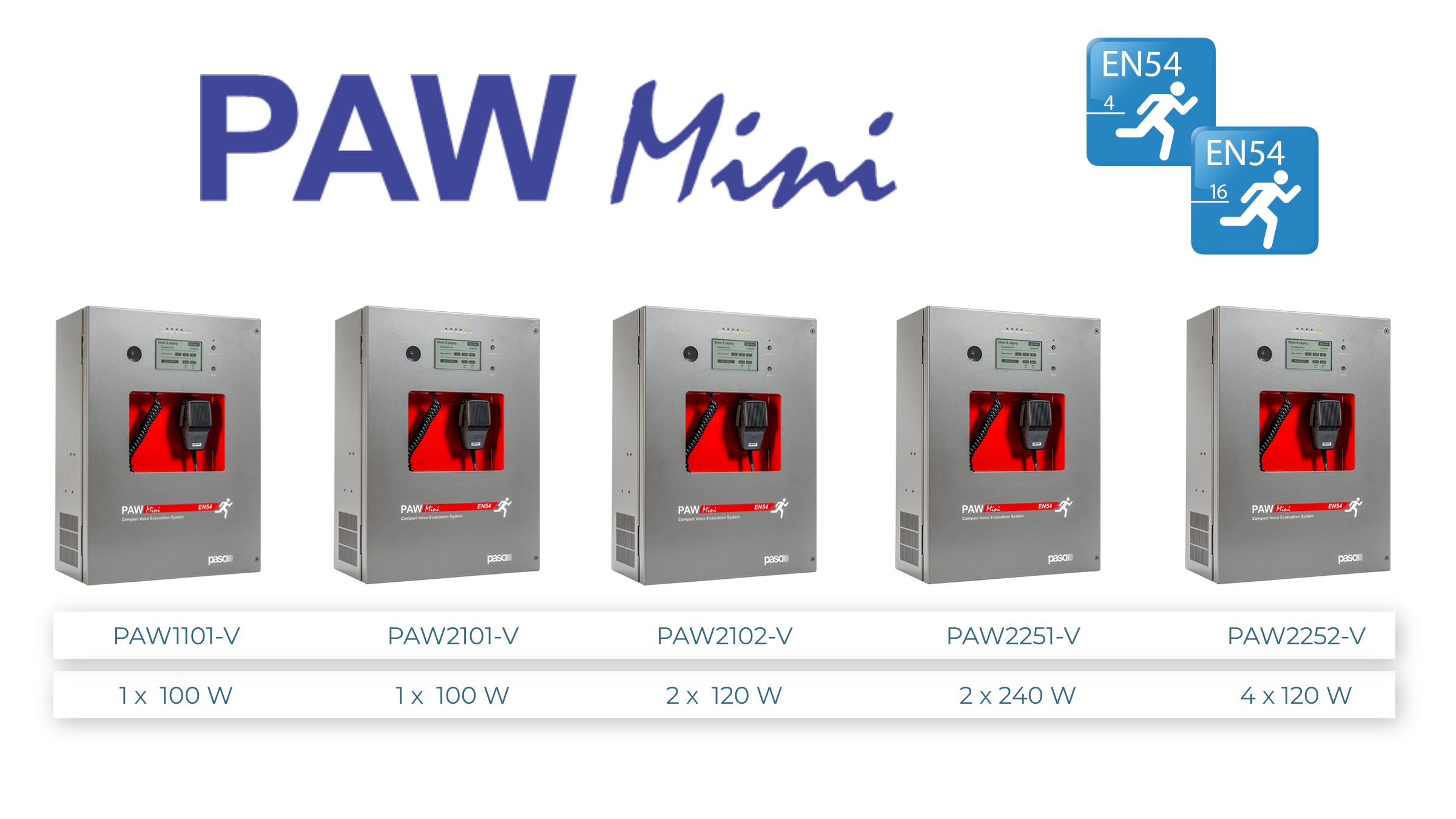 The brand new PAW Mini series of integrated voice evacuation systems for emergency facilities: 
| | |
| --- | --- |
| | Specifically designed for wall-mounting |
| | Equipped with control units, certified in compliance with EN 54-16:2008 / EN 54-4 standards |
These compact all-in-one systems are capable of managing, depending on the model,  1 or 2 alarm zones, with overall power of 100 W or 250 W, as well as remote microphone stations and controlled inputs to be connected to a central fire-fighting system.
Functional features
Rated audio output / No. of managed zones: please see above
Backlit 4.3" display with touch screen for selecting the alert and evacuation zones and enabling navigation for adjusting volume levels, configuring the equipment and viewing failures.
Handheld fireman's paging microphone (included).
Sending out of pre-recorded EVACUATION and ALERT messages.
4 off controlled input contacts, configurable for playing the evacuation and/or alert messages to the zone, for resetting the messages or for signalling the failure of an external equipment.
1 off auxiliary/music input configurable as a music source, a call with precedence activation or a call with automatic activation (VOX).
2 off configurable relay outputs.
Local button for placing the system in an emergency state, equipped with its own LED.
Local button for resetting the fault acoustic signal and stopping playing out of alarm messages.
EN54-4 certified internal battery charger unit for 24Vdc secondary power supply.
Possibility to connect up to 4 PMB broadcasting microphone units or – as an alternative – up to 2 PMB132 remote emergency units.
An optional extension card can be used for broadcast general calls towards other connected units or as an additional music input (PAW2101-V, PAW2102-V, PAW2251-V and PAW2252-V only).
Possibility to set a standby amplifier (PAW2102-V and PAW2252-V models only).